Supplier Index: Fourier Systems

USB Link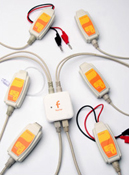 USBLink is a powerful, yet simple probe interface providing the key for a science hands-on solution to accompany every student computer.
The USBLink simple plug-n-play unit is highly-functional, featuring 4-input interface, with an option for up to eight simultaneously connected sensors via USB to the computer. It has automatic sensor recognition, fast sampling rate and sample streaming of up to 20,000 samples per second.
Together with Fourier software the USBLink brings an advanced set of tools covering the full spectrum of the science project cycle. Students using any Web camera, together with the USBLink and Fourier probes, can create multimedia science projects combining video, sound, text and samples of any experiment activity. Complemented by the Fourier vast curriculum library, K-12 teachers and students can experiment in Physics, Chemistry, Biology and Environmental Sciences.