Supplier Index: Vernier

LabQuest Mini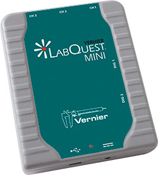 LabQuest Mini brings the power of Vernier's award-winning LabQuest technology to teachers who don't need the versatility of a standalone device. The perfect solution for educators collecting data with a computer, LabQuest Mini interfaces with Logger Pro software for unparalleled power, analysis, and curricular support.
Five sensor ports give you the flexibility to choose from over 50 compatible sensors.
Compact design and USB powered for quick and easy set up. No power supply required.