What's New

Probeware running on personal computers has been used by students since 1982 to measure and explore the world around them. In the past probeware was delivered as an application you installed on your computer. Now The Concord Consortium is introducing another innovation—probeware activities that run directly in your browser.
There are huge advantages when probeware can run directly in a browser. The software does not need to be installed by the IT department for you to begin using it. Data created in a web application can be automatically saved for you and made available on any other computer you use. The graphs and data can be easily shared with other people.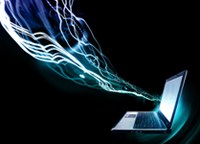 Our current system supports collecting data from Vernier probes with the Go!Link interface using an invisible Java applet that collects data and and hands it off to the web application for graphing and analysis. We are very hopeful that other probeware vendors will implement the capability so their probes can work in the browser.
Another innovation is that probeware companies are now offering wireless options for their interfaces and probes making them flexible and less cumbersome.
In recent years the Concord Consortium launched a project called Information Technology In Science Inquiry (ITSI): Probes and Models Across the Curriculum. This is a comprehensive project which offers online activities for middle and high school teachers. You may run one of our ITSI inquiry-based science activities using commercial probes. Or build your own probes with our Do it Yourself Probekit–a great activity to explore how probes work.