Wireless Sensors
Recent advancements in wireless technology have made probeware more flexible and mobile.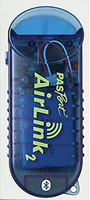 PASCO Airlink2
New ways to use probeware:
Study environments without worrying about exposing expensive equipment to the elements.
Explore hard to reach places where you could not carry a computer.
Move freely around a classroom without tripping over wires or pulling tethered equipment off a table.
Conduct physics experiments unencumbered by wires.
Technical facts about wireless: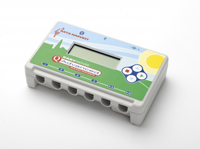 Date Harvest Easy Sense Q Advanced
Plug your probe into a wireless sensor port making almost any probe a wireless sensor.
Communicate with your wireless enabled computer, phone or tablet.
Typical range from transmitter to receiver is 10 meters.
Many of the new interfaces use both USB and wireless technology.